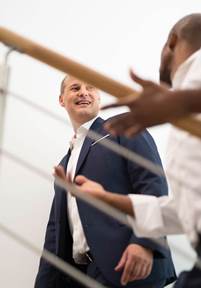 WE SHAPE THE FUTURE OF LEADERSHIP TOGETHER WITH YOU
Profil M helps you identify and develop leadership potential in your organisation. Since establishing our consultancy business in 2001, we have specialised in leadership development and talent management projects in Germany and around the world. Today, Profil M is one of the leading experts in the German market, providing the equivalent of around 5,000 consulting days per year in leadership assessment and 2,300 in leadership development. Many of Profil M's long-standing customers are DAX30 and MDAX companies. Our customers rely on the expertise of our team, which has expanded consistently over the years.
It is our ambition and our promise to make companies more successful through good leadership. We shape leadership together with you to secure your company's future. We give everything. Any time and any place – we provide you with expertise, process competence, and a comprehensive service. Why can we do this?
Read for yourself
Establishment of the company by Daniela Turck, Michael Paschen, Christian Stöwe und Anja Beenen (then Weidemann)

Profil M begins to expand: additional consultants and assistants join us

First edition of the now established practical guidebook, "Assessment Center Professionell" (D.Turck, M. Paschen, C. Stöwe, A. Weidemann)

Profil M implements first international projects on site in North and South America

Profil M know-how published in 13 professional articles appearing in several prestigious HR journals

Profil M supports first reforestation projects in cooperation with Prima Klima and launches CO²-neutral work policy

Profil M introduces exemplary data privacy protection processes and appoints a data protection officer

Financial crisis. Profil M manages to maintain its high sales rate and keep the same team composition as in 2008

stablishment of the Profil M partnership model and announcement of the first business partners.

Profil M continues to grow. Relocating to our former gym, a historic listed building, doubles our office space

Publication of the tenth book by Profil M authors, "Erfolgsfaktor Mitarbeiterführung" (Y. Faerber & C. Stöwe)

First edition of the standard work, "Psychologie der Menschenführung" (E. Dihsmeier & M. Paschen)

Profil M receives the "Fair Company" seal of approval: we are committed to the fair treatment and payment of our employees

Profil M celebrates 10 years of successful consulting work with an average growth rate of 15% every year

First participation in "Great Place to Work": Profil M is one of Germany's best employers

Expansion of our international network through cooperation with cut-e

The international edition of the standard work, "Psychologie der Menschenführung" is published in English as "The Psychology of Human Leadership"

More than 20 full-time consultants now work in the Profil M Team

First Profil M consultants qualify for the DIN 33430 certificate for aptitude assessment

Successful establishment of the Profil M Academy for Blended Learning

Second participation in "Great Place to Work": Profil M receives an outstanding result in 24th place on the list of Germany's best employers

First edition of "Die Psychologie von Potenzial und Kompetenz" (A. Fritz & M. Paschen, ed.)

Profil M implements 4,000 consulting days in leadership development projects

The Profil M team now consists of more than 50 employees (full-time)

Fresenius University survey: Profil M rated number 1 among consulting companies on Executive Assessment. 35 out of 79 surveyed companies would include Profil M in their shortlists.

The Profil M AC app: successful pilot of the face-to-face AC with iPad Pro and a convenient document management system.

More space for Profil M: In November, Profil M celebrated the topping out of the new building, which will create attractive rooms for our staff and customers and provide new opportunities for events.

Profil M is once again awarded a top spot as one of Germany's best employers. In the new "Consulting" category of the "Great Place to Work" survey Profil M took an excellent 2nd place.

With M-Volution we create the profile M-Weg of agile product, process and cultural development. The result: innovations for customers and colleagues and a lot of pleasure in doing things.

Our electric filling stations are available to all employees and customers. The energy for this comes from our 124 solar modules on the roof.

Profile M AC-App 2.0 makes observing with digital media even more convenient. And participants have many additional options for independently reflecting on their experiences in AC.

In the first year of the pandemic, Profil M organizes over 400 remote ACs.

We have more than 90 great people on our team.
Our mission
Our goal is to help our customers establish processes and tools for leadership development that will continue to be effective in the long-term. Profil M does not believe in providing standard tools. We give careful consideration to the unique requirements of each company, while taking a clear position and providing specific recommendations. For us, these are not mutually exclusive – rather, they form the key components of our consulting philosophy. Based on your strategy, your understanding of talent management and your existing processes, we help you develop appropriate solutions that will attract and motivate your internal customers. We deliberately refuse to limit our focus to a specific industry; yet our focus with regard to content is clear: we develop leaders. We can provide you with in-depth content and expert consulting, as well as practical solutions that can actually be implemented successfully in your company.
Our personal commitment
We combine a strong commitment to our work and proven expertise in the field with a reliable and personal approach to communication. This is what we value when working for you and it is also what we look for when choosing our own team members. We believe that this approach is crucial for establishing mutual trust with our customers and also within our team, which essentially determines the quality and success of our projects. Profil M consultants have many years of experience in corporate personnel development or in consulting. Most of our consultants are certified psychologists with additional qualifications in business administration. This knowledge is the foundation that underpins the success of their projects. Our Profil M back office team can be relied on for competent customer service at any time, providing you with comprehensive support to ensure that we satisfy all your organisation's requirements for flexibility and quality.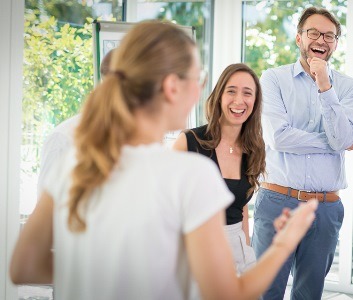 The Profil M Team has continued to grow. Joining our many long-standing employees, new members continue to endow our team with new knowledge and new ideas. The combination of continuity and a fresh breeze is one of the most important pillars of our success.