Frank & Friendly Feedback
The "Frank & Friendly Feedback" app enables spontaneous, event-driven feedback in a specific and direct, simple and uncomplicated way. It supports your employees and managers in integrating feedback into their day-to-day work. The goal is to achieve a transparent, open, and constructive feedback culture.
The major drivers of our time, digitalization and the conversion to new organizational forms, mean that managers and employees must quickly adapt to new roles and tasks. When confronted with new requirements, the focus is on personal responsibility – including for personal development. More than ever, feedback is proving to be a key lever for the success of the individual and your company.
Flexible and uncomplicated: Leadership and development tools that are tied to stable structures and fixed cycles are no longer adequate or sufficiently flexible. The "Frank & Friendly Feedback" app is flexible and uncomplicated.
Matching your feedback topics: The "Frank & Friendly Feedback" app contains 6 feedback sets for the most frequent feedback occasions in everyday professional life: team play, leadership, presentation, performance, project management, and meeting quality. In addition, you have the opportunity to define your own feedback set with key topics from your leadership mindset, mission statement, or competence model.
Continuous analysis: For the continuous analysis of feedback development, individual analyses are available to feedback recipients. In this way the app becomes an integral part of individual development processes.
Regarding which topics should your employees give each other regular feedback?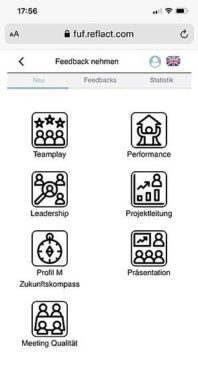 Feedback recipients:
1. gave a presentation, for example
2. select the appropriate feedback set
3. invite feedback providers via link and PIN, or QR code
4. immediately receive ratings and possible comments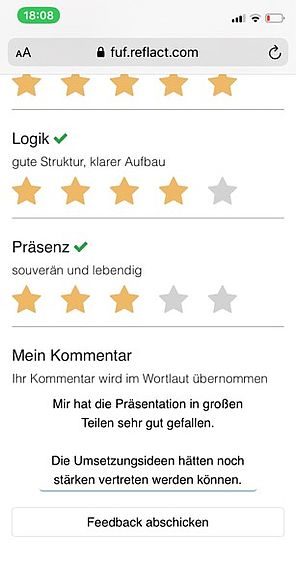 Feedback providers:
1. scan the QR Code or use the link and enter the PIN
2. award 1 to 5 stars each for 5 key criteria
3. are able to add a comment
4. decide themselves whether their feedback should remain anonymous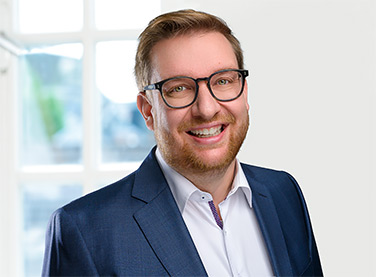 Alexander Brandt, Head of Digital Solutions
Learn more about our digital solutions. We would be happy to offer you a web session within one day to talk about possibilities for your digitally supported leadership development. We look forward to hearing from you!
Benteler Automobiltechnik GmbH
Design and delivery of training for managers on the successful introduction of an employee appraisal and development toolkit.
Gebrüder Jaeger GmbH
Individual coaching of managerial staff
Boehringer Ingelheim Pharma GmbH & Co. KG
Conducting area-specific interview trainings
Drees & Sommer
Conception and realization of workshops for the development of high performance management teams
Benteler Stahl/Rohr GmbH
Conducting training for managers, e.g. personnel selection, target agreement
LANXESS Deutschland GmbH
12-month learning journey for corporate talents that uses a DC, self-directed blended learning elements and digital tools such as AC-Suite and Profil M Academy to support participants' self-reflection, international networking and career orientation, as well as providing guidance on strengths and areas for development.
cerascreen GmbH Ltd.
Design and delivery of different training courses on topics such as communication & presentation, stress management & resilience, creative techniques and time management for employees and managers with German and international participants. Conducted in presence and remote.
Klasmann-Deilmann
Supporting the design and delivery of a manager feedback concept and a follow-up process consisting of coachings and team workshops